---
What Is the Midwest Haunters Convention?
---
MHC News & Updates
IMPORTANT: You must register to attend the Midwest Haunters Convention before you can purchase tickets to individual events or seminars.
---
We offer 3 registration options:
Basic Registration:

$15

Includes:
Basic Registration is $15 per person (Kids under 12 are FREE). On-Site Pricing is $20 and goes into affect June 9th online.
Weekend Package:

$330

Includes:
The Weekend Package is $330 per person. After June 8th, the On-Site price of $345 per person goes into effect.
All Inclusive Weekend Package:

$420

Includes:
The All Inclusive Weekend Package is $420 per person. After June 8th, the On-Site price of $435 per person goes into effect.
Register today to take advantage of pre-show pricing!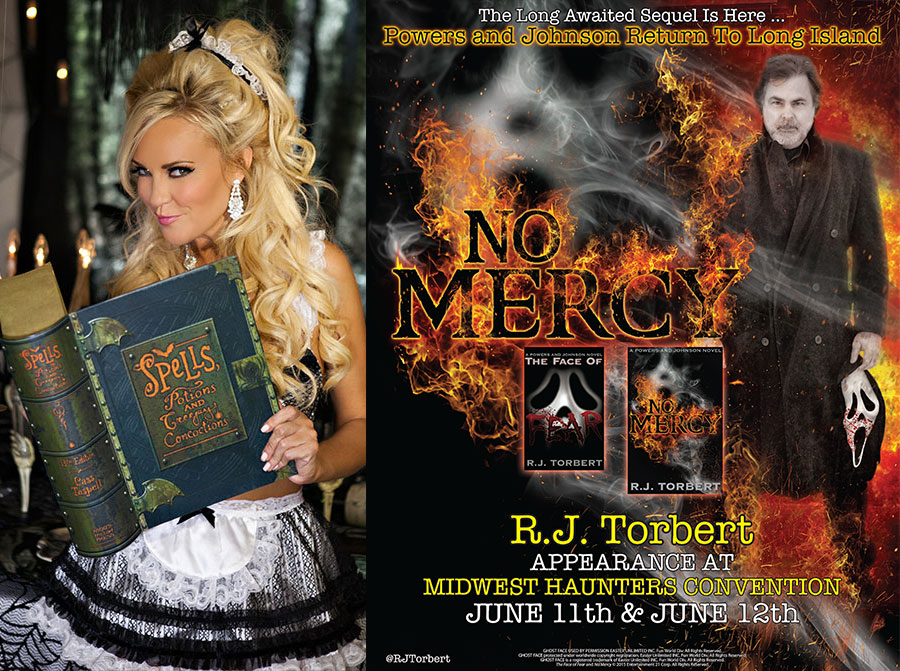 Bridget Marquardt and writer R. J. Torbert will be on-hand to sign autographs on Saturday & Sunday during trade show floor hours at the Midwest Haunters Convention 2016.
Bridget is the Halloween-loving star of "The Girls Next Door" on E! and "Bridget's Sexiest Beaches" on the Travel Channel.
R. J. has been a key figure in the behind the scenes history of the Ghost Face mask since 1996. He is responsible for the legal baptism of the name Ghost Face. In addition, he continues his responsibilities as Director of Licensing for Fun World, which includes continuing the protection of the copyrights, and trademarks for Ghost Face. R. J. lives not far from the village of Port Jefferson that gave him inspiration to write the book "The Face of Fear" based in the village location, as well as the forthcoming book "No Mercy".
"No Mercy" is premiering at MHC 2016 (it won't be released until June 21st), meaning MHC attendees will have the very first opportunity to get it!
Teams have been finalized for Bloody Mary's Monster Makeup Wars to be held on the trade show floor Saturday June 11th, 2016 at 4:30 pm.
The 2016 Teams are:
Fondrens Haunted House
GB Fear
Dinner Party
Oakwood Lunatics
Hollywood Haunters
Alternate team: Sinister Sweethearts
Good luck to all the competitors and we look forward to seeing your creepy creations!