Ronald McDonald Charity Kidz Zone
(& Adult Crafts)
We are very excited to announce that the Ronald McDonald House Charities of Central Ohio will once again be sponsoring our Kidz Zone at Midwest Haunters Convention. This will be an entire pavilion on the trade show floor that will be dedicated to kids and their families and the best part is almost everything in the Kids Zone is FREE!!! We will have everything from face painting, kids costume contests, photo booth, cookie decorating and much much more! We are extremely excited to help such a great charity and we are looking forward the RMHC Kids Zone! Please come support this great charity and bring a donation off their wish list or toss a few bucks in one of the donation stations in the kids zone.
Open during trade show floor hours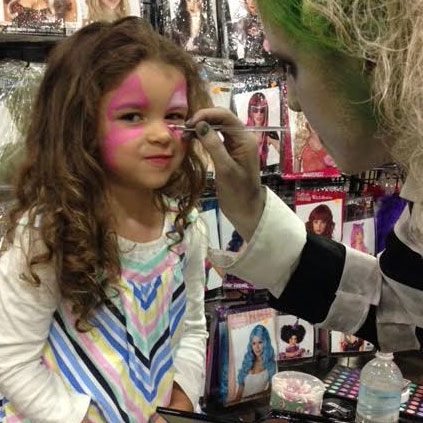 This area will be sure to keep your little ones busy with Halloween projects while mom or dad walk the show floor! Have your kids help you get a jump on the Halloween season… by creating Halloween projects in JUNE! Children 12 years of age and under may enter the trade show floor FREE*!
Featuring
Halloween-themed necklaces & bracelets
Halloween foam shapes & stickers
Face painting*
Cookie decorating
Various other craft projects
*Face Painting will be done in Booth 528 by Kyle Vest who is best known as a contestant on the hit TV Show "Skin Wars". Kyle will be painting kids faces for FREE on Saturday June 10, from 10:00am-11:00am, 1:00pm-2:00pm & Sunday  June 11, 10:00am-11am, 2:00pm-3:00pm
Adult Crafts
No-Sew Haunt/Halloween T-Shirt Bag
Got a collection of old t-shirts with great spooky graphics? We will upcycle them into tote bags! Since this class is no-sew,
no special skills are needed, and all ages are welcome!
What you'll need to bring:
A t-shirt (or t-shirts!). Any size – obviously, the smaller the shirt, the smaller the resulting tote bag. Midwest Haunters Convention will have also have old show Ts for sale for $5 each at the MHC T-shirt Booth for those who do not bring their own shirt or want an extra special keepsake!
A pair of sturdy scissors, if you have them (If everyone brings a pair things will move along quicker); otherwise we will have several pairs to share.
That's it!
*PLEASE NOTE: All children under 12 years of age may attend for free, but must be accompanied by a parent or legal guardian while on the MHC trade show floor and in the Ronald McDonald Charity Kidz Zone. Most activities and events in the RMHC Kidz Zone will be free of charge. RMHC will have donation stations set up throughout the Kidz Zone and will accepting donations for the charity.
Suggested Donations:
If you can not make it to the trade show and you would still like to make a donation you can drop off or ship to the various locations listed below. If mailing a check make it payable to the Ronald McDonald Charity of Central Ohio. Please DO NOT mail cash. You can also send any of the various items off the wish list. We truly appreciate your support for such a great charity!

Ship or Drop off Donations to:
Midwest Haunters Convention
C/O ZombieWalk Columbus/Ronald McDonald Charity
Attention: Rich Bianco
1001 Green Bay Rd. Suite 308
Winnetka, IL. 60093
Rendezvous Hair Salon
C/O ZombieWalk Columbus/Ronald McDonald Charity
Attention: Vanessa Williams
2600 N High St.
Columbus, OH. 43201