Ronald McDonald Charity Kidz Zone
We are very excited to announce that the Ronald McDonald House Charities of Central Ohio will be sponsoring our new kids zone at Midwest Haunters Convention in 2016. This will be an entire pavilion on the trade show floor that will be dedicated to kids and their families and the best part is almost everything in the Kids Zone is FREE!!! We will have everything from face painting, kids costume contests, carnival games, photo ops, celebrity characters, cookie decorating, daily performances, a visit from Ronald McDonald himself and much much more! We are extremely excited to help such a great charity and we are looking forward the RMHC Kids Zone! Please come support this great charity and bring a donation off their wish list or toss a few bucks in one of the donation stations in the kids zone.
Open during show floor hours
This year Midwest Haunters will feature the Ronald McDonald Charities Kidz Zone on the show floor featuring some amazingly Fun activities for our junior haunters and enthusiasts! All kids under 12 get on the trade show floor for free when accompanied by an adult.
Check back often for additional events and activities!
Sinister Visions Kids Costume Contest
Trade Show Floor Demo Stage
Join us Sunday June 11 @ 1:00 pm in your favorite ghoulish costume or as your haunted house character for our Second Annual Sinister Visions Costume Contest and compete for fun and prizes! All ages welcome!
A prize bag full of horrific goodies will be awarded to the winner in the Adult Category (13 & up) and Kids Category (12 & under).
Host and judges TBD.
THERE IS NO PRE-REGISTRATION: Contestants should start assembling beside the trade show floor demo stage starting 15 minutes prior to the event. Chad Savage will be there to direct you as necessary.
RMHC Kidz Zone Arts & Crafts Area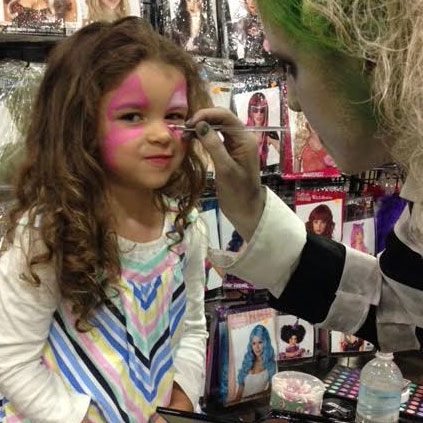 This area will be sure to keep your little ones busy with Halloween projects while mom or dad walk the show floor! Have your kids help you get a jump on the Halloween season… by creating Halloween projects in MAY! Featuring:
Cookie decorating
Decorating spooky cut-outs!
Face painting
Arts & crafts
Make 'n' Takes
and much much more!!!
PLEASE NOTE: All children under 12 years in for free but must be accompanied by a parent or legal guardian while on the MHC trade show floor and in the Ronald McDonald Charity Kidz Zone. Most activities and events in the RMHC Kidz Zone will be free of charge. RMHC will have donation stations set up throughout the Kidz Zone and will accepting donations for the charity.
Suggested Donations:
If you can not make it to the trade show and you would still like to make a donation you can drop off or ship to the various locations listed below. If mailing a check make it payable to the Ronald McDonald Charity of Central Ohio. Please DO NOT mail cash. You can also send any of the various items off the wish list. We truly appreciate your support for such a great charity!
Ship or Drop off Donations to:
Midwest Haunters Convention
C/O ZombieWalk Columbus/Ronald McDonald Charity
Attention: Rich Bianco
1001 Green Bay Rd. Suite 308
Winnetka, IL. 60093
Rendezvous Hair Salon
C/O ZombieWalk Columbus/Ronald McDonald Charity
Attention: Vanessa Williams
2600 N High St.
Columbus, OH. 43201