Recommended Hotels
The preferred hotel of the Midwest Haunters Convention is the Hyatt Regency Columbus located at 350 N High St. Columbus, Ohio 43215. We have negotiated a special rate for this hotel which also hosts many of our activities and is directly connected to the convention center. Please book your room early as we always fill our block well before the show. As needed, other recommended hotels will be added below.
Hyatt Regency Columbus (Host Hotel)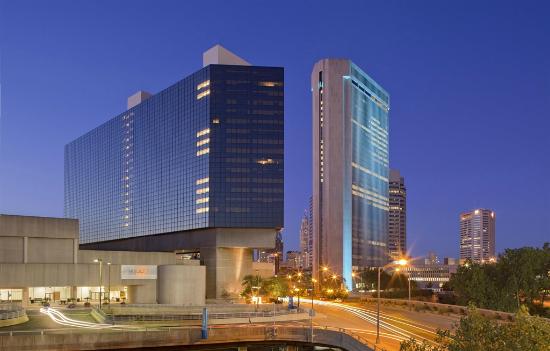 350 N. High Street
Hyatt Regency Columbus our HOST HOTEL is located in downtown Columbus in the heart of the city, connected to the Greater Columbus Convention Center and within easy walking distance to the Arena District, Nationwide Arena and Huntington Park. The Hyatt is the location of many of our special events and a great place to network and mingle with fellow haunters.
Single, Double, Triple, Quadruple Occupancy $149 | For reservations call 1-888-421-1442 or 614-463-1234.    Ask For THE  MIDWEST HAUNTERS CONVENTION Rate



Luggage Storage For 2-Day Bus Tour (Hyatt Hotel Guests ONLY)*For $10 a bag, Hyatt Hotel guests may to take their bags to DOOLEY'S for luggage storage overnight. DOOLEY'S is located right off the main lobby, to the left of the front desk. The room will be staffed from 6:30am – 9am on Wednesday; and 11pm-1am on Thursday night. If you need access outside of those hours, please go to the Bell desk in the lobby. The Hyatt will make arrangements for these charges to be billed to your guest room.
Guest also receive:
Parking Self-parking is available at the Chestnut Street parking garage for $18 overnight, with a 15% discount for our attendees if they are guests of the Hyatt. Rate also includes in and out privileges.
Free High Speed Wireless Internet in every guest room, hotel lobby and restaurant
---
Crowne Plaza – Columbus Downtown
33 East Nationwide Blvd.
Crowne Plaza Columbus Downtown is located directly across the street from the Greater Columbus Convention Center and is also connected via Sky Walk. Enjoy Max & Erma's Restaurant and the Boulevard Café and Bar for all of your dining needs during your stay with us. Or take a short walk to the Arena District or the Short North Arts District for additional dining and entertainment options.
Book Online Here to reserve your room rate for a Single/Double at $136 per night or dial (877) 283-1700 and refer to group code MWH.
Cutoff date is May 11th, 2018.
6 PM cancellation on day of arrival to avoid cancellation fees.
Valet parking offered at $26 per night with in/out privileges. Self-parking available at Chestnut Street Garage, located directly behind hotel.
All guestrooms receive complimentary internet.
---
CBUS line – Free Downtown Transportation to the Convention Center, German Village, Arena District and Short North  http://www.cota.com/CBUS.aspx