Recommended Hotels
The preferred hotel of the Midwest Haunters Convention is the Hyatt Regency Columbus located at 350 N High St. Columbus, Ohio 43215. We have negotiated a special rate for this hotel which also hosts many of our activities and is directly connected to the convention center. Please book your room early as we always fill our block well before the show. As needed, other recommended hotels will be added below.
DoubleTree Suites by Hilton Columbus Downtown
50 S Front St.
The DoubleTree Suites by Hilton Columbus Downtown is located in the heart of downtown and across the street from the urban oasis that is the Scioto Mile! Each guestroom is a spacious 2 room suite with a refrigerator/microwave and wet bar. Enjoy complimentary access to our full service private on-site fitness center and restaurant/lounge, The Capital Club. Room rate includes complimentary Wi-Fi.  Self-parking is offered at a discount of $20 per night with unlimited in/out privileges.
Book Online Here to reserve your room rate for a Single/Double at $129 per night or dial 800-525-2430 and refer to group code MHC.
Reserve your room by June 1st. 2017.
Hyatt Regency Columbus (Host Hotel)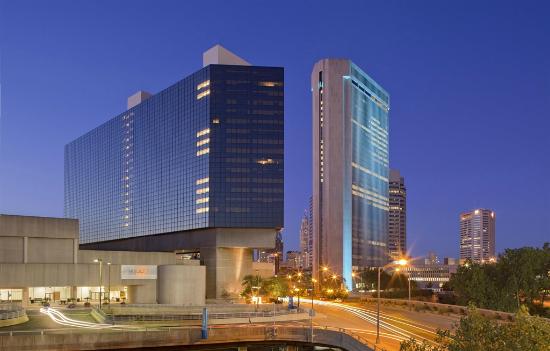 350 N. High Street,
Hyatt Regency Columbus our HOST HOTEL is located in downtown Columbus in the heart of the city, connected to the Greater Columbus Convention Center and within easy walking distance to the Arena District and Huntington Park. The Hyatt is the location of many of our special events and a great place to network and mingle with fellow haunters.
Single, Double, Triple, Quadruple Occupancy $130 | For reservations call 1-888-421-1442 or 614-463-1234. Cut-off date is May 18, 2017.
Luggage Storage For 2-Day Bus Tour (Hyatt Hotel Guests ONLY)*For $10 a bag, Hyatt Hotel guests may to take their bags to Champaign for luggage storage overnight. Champaign is located on the second floor, just above the food court, second room on the right in County Foyer, across from the bathrooms. The room will be staffed from 6:30am – 9am on Wednesday; and 11pm-1am on Thursday night. If you need access outside of those hours, please go to the Bell desk in the lobby. The Hyatt will make arrangements for these charges to be billed to your guest room.
Guest also receive:
Parking Self-parking is available at the Chestnut Street parking garage for $18 overnight, with a 15% discount for our attendees if they are guests of the Hyatt. Rate also includes in and out privileges.
Free High Speed Wireless Internet
---
Crowne Plaza – Columbus Downtown
33 East Nationwide Blvd.
Crowne Plaza Columbus Downtown is located directly across the street from the Greater Columbus Convention Center and is also connected via Sky Walk. Enjoy Max & Erma's Restaurant and the Boulevard Café and Bar for all of your dining needs during your stay with us. Or take a short walk to the Arena District or the Short North Arts District for additional dining and entertainment options.
Book Online Here to reserve your room rate for a Single/Double at $136 per night or dial 800-338-4462 and refer to group code MID. SOLD OUT SATURDAY, 6/10
Cutoff date is May 23rd, 2017
6 PM cancellation on day of arrival to avoid cancellation fees.
Valet parking offered at $24 per night with in/out privileges. Self-parking available at Chestnut Street Garage, located directly behind hotel.
All guestrooms receive complimentary internet.
---
Red Roof Plus+
111 E Nationwide Blvd
Red Roof PLUS+ Columbus Downtown Convention Center is "your means to the experience, not the experience"  www.columbusdowntonw.redroof. com. The flagship hotel for Red Roof Inn's located diagonally across the street from the south entrance of the Greater Columbus Convention Center & Food Court offers:
Free WiFi, local calls in the continental U.S. and up to 10 fax pages in the continental U.S.
Free 36 HD channels on large HD Flat screen wall mounted TV's
Free Red Roof Coffee Bar featuring freshly brewed coffee and tea
Free stay with your pet
Complimentary Continental breakfast with assorted pastries, bagels, whole fruit coffee and juice
Interior Corridors and elevator-7 story hotel
Off-site fitness center membership for guests
Guest laundry on site
Spa-inspired bathrooms with vessel sinks
Modern wood-like flooring in rooms
All new interiors and plush Rest Suite bedding by Serta
Additional convenience outlets for your mobile devices (11-17 per room)
Parking is $10 first come first serve across the street at Convention Center East parking lot with in/out privileges. Least expensive hotel parking in Columbus.
Cutoff date for reservations is May 22, 2017. Rate is $95 plus tax.
Use Code MDW17 and CLICK HERE to book your room, or call 1-800-RED-ROOF (733-7667), or email reservations to [email protected] or [email protected]
---
Drury Inn and Suites
SOLD OUT
88 East Nationwide Blvd.
Located in the heart of Downtown and adjoining the Greater Columbus Convention Center, the Drury Inn & Suites makes it easy to check-in and head out to explore all Columbus has to offer at only $155.00/night. Plus, you'll find plenty of FREE with all of our great extras Including:
FREE HOT QUIKSTART ® Breakfast – At Drury, "hot" means Belgian waffles, scrambled eggs, biscuits & gravy, sausage and more.
FREE 5:30 KICKBACK® – From 5:30-7:00 pm each evening, kick back, relax and enjoy a rotating menu of free hot food and cold beverages.
FREE Free Long Distance – One hour every room every night.
FREE Wireless Internet Access – High speed Internet in all rooms and the lobby.
FREE Soda and Popcorn – From 3:00 pm to 10:00 pm every night in the lobby. Plus much more!!
PARKING $12 a day with in and out privileges
Room rates: $155 for a Single/Double, $165 for Triple, $175 for Quad.
Guests may call 1-800-325-0720 and refer to the group code 2284551 or REGISTER ONLINE HERE. Cutoff date May 17, 2017.
---
Hilton Columbus Downtown
401 North High Street
Hilton Columbus Downtown offers a contemporary presence in the eclectic urban hub of Columbus, reflecting the spirit and energy of the area and is within walking distance to over 300 dining and entertainment venues. The Greater Columbus Convention Center is connected to the hotel by a stunning glass pedestrian sky bridge and offers direct access to over 1.7 million sq. ft. of meeting space. Within walking distance, the Short North Arts District is Columbus' premier arts, dining and shopping district and offers a variety of trendy dining options and unique galleries.
CLICK HERE to reserve your 2017 room rate for a Single/Double at $175 per night or dial 855-380-9591 and refer to group code, which will be available soon.
Complimentary Guestroom internet.
Self park is available at the Vine Street Garage with in and out privileges at $23 a night for Hilton guests.
Cut off date is May 17th, 2017.
---
Sheraton Columbus Hotel at Capitol Square
75 E State Street
Experience our modern, sophisticated hotel. Our downtown Columbus Hotel is in the heart of Ohio's capital, conveniently
located near all of the things to do in Columbus. Featuring a full-service Starbucks, an upscale fitness center and exclusive Sheraton Club Lounge with spectacular views, you'll enjoy exploring Columbus including the German Village neighborhood, Brewer's Yard, Arena District and more.
CLICK HERE to reserve your 2017 room rate for a Single/Double from $139 per night or dial 800-325-3535 and refer to group code MF03AA.
Complimentary Guestroom internet
$26 Valet parking with in/out privileges
Self-park is available at nearby Columbus Commons Garage at their published hourly rates.
Cut-off date is May 14th, 2017
---
CBUS line – Free Downtown Transportation to the Convention Center, German Village, Arena District and Short North  http://www.cota.com/CBUS.aspx