---
The Midwest Haunters Convention is the largest Halloween show of its kind in the US, dedicated to ALL Haunters; actors, enthusiasts, home/pro haunters and Halloween enthusiasts. Open to the public the MHC features a haunted house, horror and Halloween trade show, educational seminars & workshops, chartered haunted house bus tours on Thursday and Friday, a massive costume party, multiple contests, family-friendly activities, your favorite characters from Chicagoland haunted houses and much more!
---
MHC News & Updates
Posted : May 16th, 2019
Posted in Contests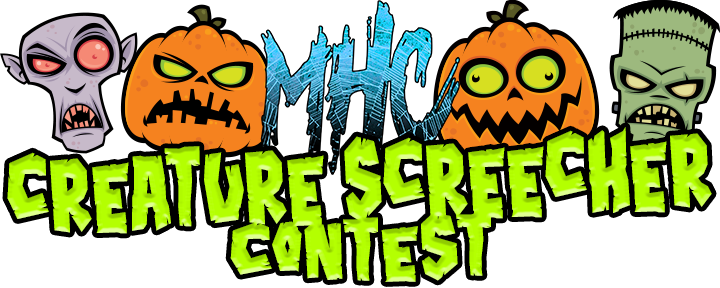 Can you scream like a banshee? Growl like a werewolf? Can you give somebody the chills using nothing but your voice? Prove it at the first annual MHC Creature Screecher Contest, hosted by "Crazy Bob" Turner (Haunted Hydro) at 12:30 pm Saturday on the trade show floor's Main Stage. Whether you're a haunt actor with a signature sound or you were just blessed with the ability to sound really creepy, MHC attendees are welcome to get on stage and make some noise! The winner will be whoever can make the SCARIEST sound using only their voice, determined by audience applause, and will receive prizes provided by Zombie Army Productions and ShopSinister.com! Want to participate in costume as your haunt character? Go right ahead!
The Creature Screecher Contest is open to all MHC 2019 attendees!
One of the Midwest Haunters Convention's biggest and best-known even is the Saturday night Costume Party, where professional costumers, makeup artists, actors, owners and enthusiasts let their imaginations run wild, resulting in show-stopping costumes that will make you question what you're actually seeing!
The MHC Costume Party is THE Social Event of the year for the haunt industry! Join hundreds of haunters and Halloween lovers for an evening of music, competitions, dancing and socializing. The MHC Costume Party is a gala showcase of some of the best costuming and makeup effects the haunt industry has to offer. This is a MUST-SEE event! Come out and celebrate being halfway to Halloween, enjoy the MHC Body Painting Showcase and participate in the costume contest!
Masters of Ceremony John LaFlamboy & Tiela Halpin, Zombie Army Productions
DJ
All bars will accept cash & credit cards. ATMs are located in the Exploration foyer and in the hotel lobby.
 $50 Per Person Admission Includes Hors d'oeuvres, DJ w/ dance floor, an amazing Body Painting Showcase, costume contest with prizes and entertainment! This is a must see event!
COSTUME CONTEST
Hosted by Chad "Sinister Seacrest" Savage and judges Allen Hopps (Dark Hour/Stiltbeast Studios), Kyle Vest (Skin Wars) and Ed Edmunds (Distortions Unlimited), the costume contest is open to all party attendees!
CATEGORIES – contestants in each category will be judged on the uniqueness of their concept, quality of costume construction and makeup:
Best Costume
That one costume of the night that just hits all the right notes, and the hardest one to judge!
Scariest Costume
Well, it's the Midwest HAUNTERS Convention after all! We want to see your SCARIEST!
Most Original Costume
It may not be the best, and it may not be the scariest, but we want to give props for thinking outside the box!
Best Couple or Group Costumes
Sometimes it takes more than one character to execute a great concept, and that's what this category celebrates, whether you're going full Gomez & Morticia, or you and your friends are appearing as the whole Scooby gang!
PRIZES – Each category's winner will receive an award certificate, trophy, Basic Package Registration for MHC 2020 and a pass to the MHC Costume Party 2020; winners of the Best Couple or Group will receive two of the Basic Reg. Packages and Costume Party tickets for 2020.
WHETHER YOU WANT TO SHOW OFF YOUR OWN COSTUME OR JUST ENJOY THE TALENT ON DISPLAY, YOU DON'T WANT TO MISS THIS PARTY!