---
The Midwest Haunters Convention is the largest Halloween show of its kind in the US, dedicated to ALL Haunters; actors, enthusiasts, home/pro haunters and Halloween enthusiasts. Open to the public the MHC features a haunted house, horror and Halloween trade show, educational seminars & workshops, chartered haunted house bus tours on Thursday and Friday, a massive costume party, multiple contests, family-friendly activities, your favorite characters from Chicagoland haunted houses and much more!
---
MHC News & Updates
The Midwest Haunters Convention is delighted to announced that it will return to the Renaissance Schaumburg Convention Center and Hotel June 5-7, 2020, with the Pre-Convention Bus Tour on Thursday, June 4th! Additional information and details will be posted as they are confirmed!
The Midwest Haunters family would like to thank all of the exhibitors, buyers and sponsors for making the first year in Chicago a huge success! We wanted to give a special thanks to DEAD Rising Haunted HOUSE, Midnight Terror Haunted House, Massacre Haunted House and Basement of the Dead Haunted House for an amazing Pre-Convention Bus Tour. We all understand how hard it is to open your haunts off season. So, thank you for opening your doors for our event! Hats off to HellsGate Haunted House for hosting over 15 buses on Friday night, the industry truly enjoyed your Haunted Attraction!
We are all touched by the number of people who came out to support this years event which includes the tours, seminars and parties. We look forward to seeing you next June (5-7) back in Chicago!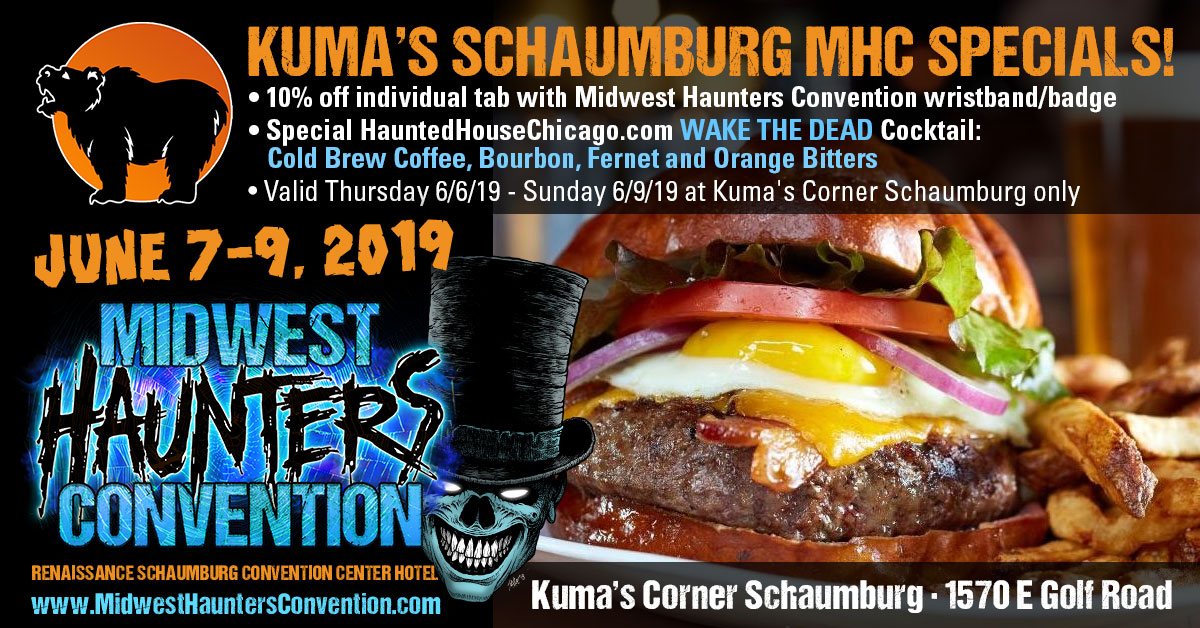 Kuma's Corner Schaumburg is offering the following during MHC 2019:
10% off individual tab with Midwest Haunters Convention wristband/badge
Special HauntedHouseChicago.com WAKE THE DEAD Cocktail:
Cold Brew Coffee, Bourbon, Fernet and Orange Bitters
Kuma's Corner Schaumburg is located at 1570 E Golf Road
https://kumascorner.com/location/kumas-schaumburg/
Special thank you to Kris Zahrobsky at HauntedHouseChicago.com for setting this up! Valid Thursday 6/6/19 – Sunday 6/9/19 at Kuma's Corner Schaumburg only