The 2015 MHC Paranormal Tour and Investigation: The West Virginia Penitentiary in Moundsville
"Unlike most of the people who've previously walked through the gates of the West Virginia Penitentiary in Moundsville, you can be fairly certain you'll be walking out again a few hours later. The imposing Gothic structure was first opened in 1876, but closed in 1995. It's seen riots, fires and the execution of nearly 100 prisoners through either hanging or electrocution… Obviously, this place has its fair share of ghosts and demons, literal and figurative. Visitors have reported seeing the "Shadow Man," a static-y silhouette of a figure that roams the entire prison grounds, along with spirits from prison guards and inmates past. Compounding its already shady history, the penitentiary was built on the leveled grounds of the Adena Native American tribe's sacred burial site…"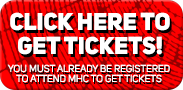 PLEASE NOTE: You MUST ALREADY be a Registered MHC Attendee to purchase event tickets. If you still need to register, click HERE!
Friday Day Tour (Bus 1) guests will learn of the dark history of this ominous building, cold hard facts and an insight into the antiquated justice system. The gloomy, gothic-style structure resonates with the untold stories of the state's murderers, rapists and West Virginia's worst. The tour focuses on the main level of the facility and includes the recreation yards, a viewing of prisoner artwork, both visitation rooms and the new cafeteria that resulted from the riot of 1986. Also included are a walk through "The Alamo", the cellblock which once housed the most dangerous and violent inmates, and "New Wall" where you just might get LOCKED UP! Following the tours, guests are welcome to browse in the penitentiary's gift shop.
Dungeon of Horrors: The penitentiary is also is the host of the haunted attraction Dungeon of Horrors, through which MHC tour attendees will get an exclusive lights-on (no actors) walk through.
Friday Afternoon/Evening Tour (Bus 2) guests will embark on a first-of-a-kind event for Midwest Haunters Convention. Travel with us to this well-known paranormal site to do an actual paranormal investigation with the guys from Living Dead Paranormal, an Ohio-based paranormal investigation team made up of brothers Josh, Shaun and Rocky Fourman. After living for several years in a genuinely haunted house, the Fourman brothers now travel the country filming and documenting paranormal activity at some of the country's most haunted locations. You can get to know more about Living Dead Paranormal before MHC by visiting their website and Facebook page.

For more information, visit the Friday Paranormal Tours page.
Sponsored by