Annual MHC Saturday Night Costume Party

Saturday July 25th, 2020
Location TBA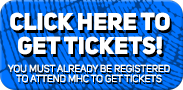 The MHC Costume Party is THE Social Event of the year for the haunt industry! Join hundreds of haunters and Halloween lovers for an evening of music, competitions, dancing and socializing. The MHC Costume Party is a gala showcase of some of the best costuming and makeup effects the haunt industry has to offer. This is a MUST-SEE event! Come out and celebrate being halfway to Halloween, enjoy the MHC Body Painting Showcase and participate in the costume contest!
Master of Ceremonies TBA
DJ
All bars will accept cash & credit cards. ATMs are located in the Exploration foyer and in the hotel lobby.
 $50 Per Person Admission Includes Hors d'oeuvres, DJ w/ dance floor, an amazing Body Painting Showcase, costume contest with prizes and entertainment! This is a must see event!
SCHEDULE
8:00 pm Foyer doors open
8:00 pm – 9:30 pm Costume Contest Judging
8:30 pm Ballroom doors open & the party begins
9:00 pm Body Painting Showcase
10:30 pm Costume Contest Finalists posted
11:00 pm Announcement of Costume Contest winners
Costume Contest
Beginning at 8:00 pm there will be a registration table in the foyer (outside the ballroom) complete with host Chad "Sinister Seacrest" Savage and judges Allen Hopps (Dark Hour/Stiltbeast Studios) and two judges TBA. The contest is open to all party attendees!
Limited amount of contestant space available – entries will be based on a first-come, first-served basis. We recommend arriving early.
CATEGORIES – contestants in each category will be judged on the uniqueness of their concept, quality of costume construction and makeup:
Best Costume
That one costume of the night that just hits all the right notes, and the hardest one to judge!
Scariest Costume
Well, it's the Midwest HAUNTERS Convention after all! We want to see your SCARIEST!
Most Original Costume
It may not be the best, and it may not be the scariest, but we want to give props for thinking outside the box!
Best Couple or Group Costumes
Sometimes it takes more than one character to execute a great concept, and that's what this category celebrates, whether you're going full Gomez & Morticia, or you and your friends are appearing as the whole Scooby gang!
PRIZES – Each category's winner will receive an award certificate, trophy, Basic Package Registration for MHC 2021 and a pass to the MHC Costume Party 2021; winners of the Best Couple or Group will receive two of the Basic Reg. Packages and Costume Party tickets for 2021.
Registration will run from 8:00 pm to 9:30 pm. Shortly after 10:30 pm, the top 3 finalists in each category will be posted at the registration table; one of these 3 finalists will win. If you are competing, IT IS UP TO YOU TO CHECK AND SEE IF YOU ARE A FINALIST. At 10:45 pm the finalists will start taking the stage and a winner named in each category; YOU MUST BE PRESENT TO WIN, so check that list and listen for your name!
There is no pre-registration – just look for the Costume Contest area outside the ballroom and sign up on site! Limited amount of contestant space available – entries will be based on a first-come, first-served basis. We recommend arriving early!
PHOTOS
 This is the biggest costume party you've ever seen. Don't forget your camera!
 Please be aware the MHC Costume Party includes a naked Body Painting Showcase, and alcohol is available to adults over 21 with a valid ID. Although the MHC Costume Party is open to all ages, we leave it up to the parents' discretion for their children to be in attendance.