Friday Night Haunt Tour 2018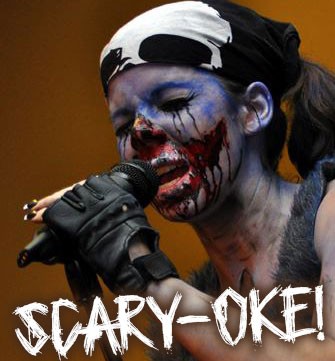 The Friday night haunt tour will combine something new with something old. We'll be touring the newest haunted attraction in Columbus, Carnage Haunted House. This highly detailed haunted attraction offers 23 rooms of terror, fantastic scenes and industry veteran performers with original characters. After touring the haunt, we'll return to the Hyatt for a night of Scary-Oke on stage. We're bringing back this former favorite night of entertainment as our chiseled fellow industry peeps hop on the stage to perform for us. Music will be provided by Marco D'Andre with MD3 Entertainment. Get ready to dance, costumed performers are encouraged, but not required. The Hyatt is our host hotel and we'll be hanging out there during non-show hours.
Cost is only $45 and that includes haunt admission, bus transportation and admission to the Scary-Oke party. Click now to order your tickets, you'll pick up your timed tickets to board the bus to Carnage at registration. Buses start departing the East Convention Connector at 7:45 pm, and depart every 15 minutes. Scary-Oke is from 9:00 – 12:30 in the Franklin Ballroom at the Hyatt. Order your tickets now, we will have a limit on the number of tickets sold.
SCARY-OKE SPONSORED IN PART BY